A Powerful Bike Turning Light
Oricycle C2 Rechargeable Bike Tail Light LED – Ultra Brightness, 30 Hours Battery Life, Remote Control, Turning Lights, Ground Virtual Lane, IPX4 Waterproof, Safety Warning Light
Ultra Brightness
Oricycle C2 bicycle tail light has 29 x 85LM LED lights, which can clearly be seen 50 m away, even in foggy or rainy conditions, and at night.
Virtual Lane & Light Sensor
Ultra-bright ground lane lights remind any possible incoming vehicle to keep a safe distance, further increasing safety during your ride. The built-in light sensor enables C2 to turn on/off automatically in any dark/bright environment.

Unique Turning Signal
Simply turn on right/left turn signals through the wireless remote control to get drivers', securing your safety when riding in traffic.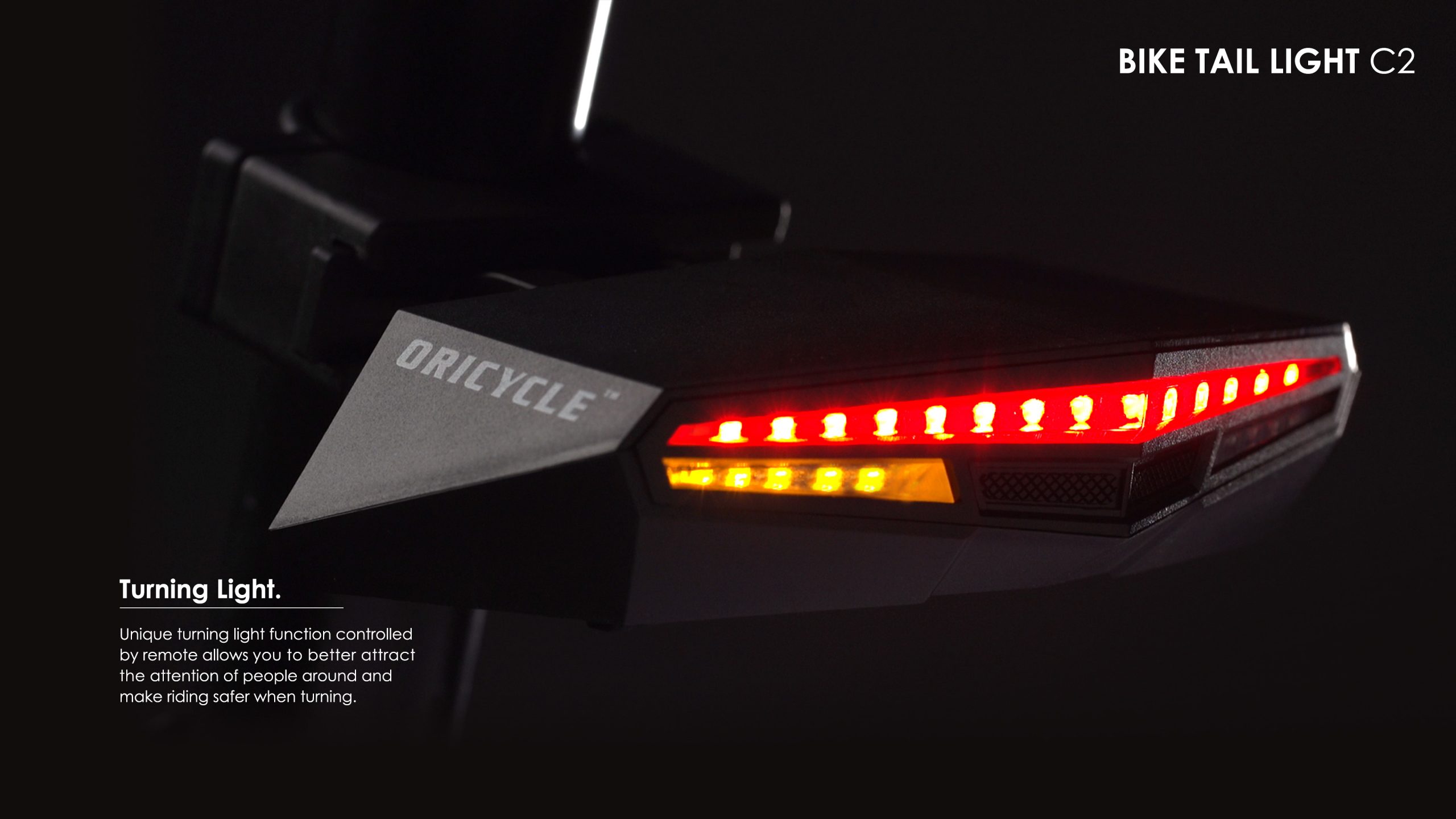 30 Hours Battery Life
The built-in 3350 mAh rechargeable battery, housed within the IPX4 Waterproof case provides up to 30 hours usage from one single charge in small to moderate rain.
Quick-release & Screw fixing options available
C2 bike tail light provides two setup options in one package, letting you make your own decision between anti-theft and convenience.

Specifications
Rear Light Size: 110 x 65 x 30 mm
Rear Light Weight: 125g
Rear Light Charging Input: DC5V 800mA
Remote Control Battery Capacity: 180mAh
Waterproof Level: IPX4
Red Alarming Light Brightness: 85 lumen
Rear Light Battery Capacity: 3350mAh
Working Environment: -20 – 60°C(-4 -140°F)
Rear Light Battery Life (per charge): > 30 hours
Rear Light Charging Time: 3.5 hour normal charging time
Rear Light Full Battery Standby: standby time 14 days
Remote Control Battery Life (per charge): > 4 months